Creating and implementing employee training systems for North America's first integrated PDH/PP production facility has been a feat as complex and groundbreaking as the design and build of the plant itself, says Kimberly Benedict, Operations Manager for the Heartland Petrochemical Complex (HPC) PDH unit.
The first of its kind in North America, HPC consists of three integrated operational units: The cogeneration unit, known as the Central Utility Block (CUB), the Propane Dehydrogenation unit (PDH) and the polypropylene unit (PP). CUB is a 102 MW natural gas-powered cogeneration facility that is capable of supplying electricity, steam, and other utilities to the plant; the Propane Dehydrogenation (PDH) unit, which converts local propane into the feedstock used to produce polymer resins at the polypropylene (PP) unit.
Benedict says the development and implementation of best practices has been an evolution several years in the making, a true team effort centered on safety and operational excellence from the very beginning. A process engineer by background, Benedict brought 20 years of varied experience across petrochemicals and refining to her role at Heartland, but as HPC readies to become operational by mid-year, she says it has taken a unique combination of talent, innovation and resilience to get here.
"Not from scratch, but kind of from scratch," she says of the training programs that were developed as the site took shape.
"We had a high-level framework to build upon, but a lot of our processes and associated training we designed from scratch."
Kimberly Benedict, Operations Manager, HPC PDH unit.
Technology vendors provide ongoing intelligence throughout plant integration and commissioning, and all of HPCs employees come to their job with a high degree of competency, but many of the internal procedures simply did not exist previously. HPC's safe production process helped make the development of best practices more manageable by mapping every single procedure that is required for the safe start-up and operation of the plant, along with the required cadence for communication and escalation that occurs within the operations shift cycle.
"We've done it for operations, we've done it for maintenance, we've done it for our safety practices, manuals, and operating manuals. We've done it for everything," she explains.
Benedict says the global pandemic forced the team to "think outside the box" to keep everything moving – and safely. But engineers love a challenge, she says with a smile.
"Something that's really cool here that we have for the PP and PDH units specifically, is an operations simulator. So, if you think of a flight simulator that pilots go in and simulate flight, we built a simulator for the PDH and PP units. That was an investment that was made early on, and I can't even describe the value that brings to an organization. Operators can actually test drive the panel that they will be operating."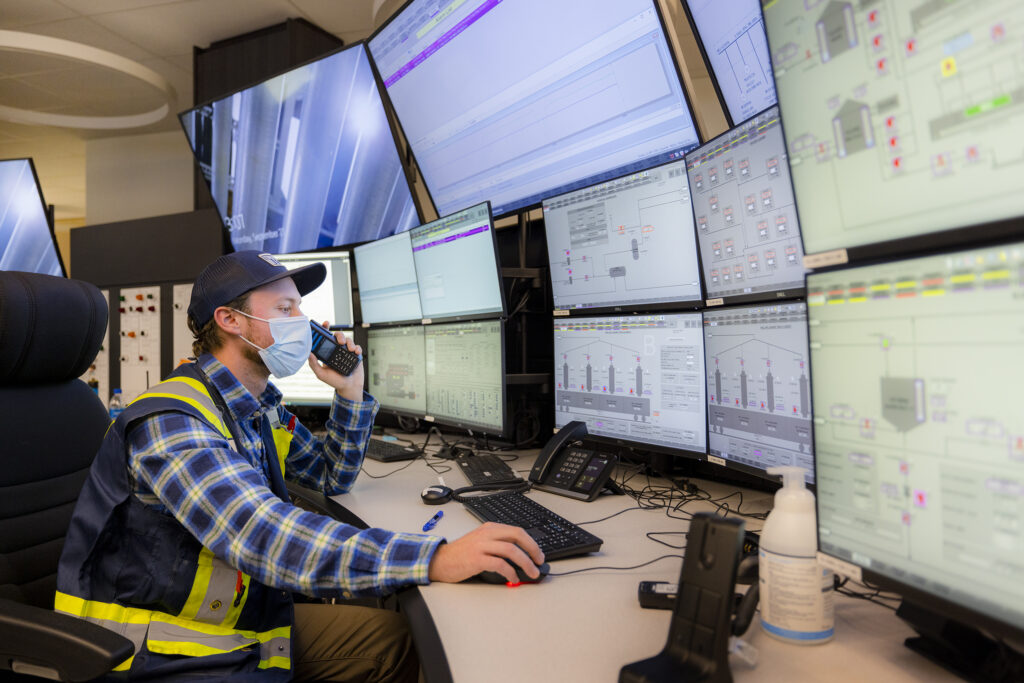 Education, training, and certification is an infinite cycle for operators, with safety always at the forefront.
"True competency for operations and maintenance, and the technical support team of a petrochemical facility is actually an underlying requirement for us to operate safely," Benedict says. "What's interesting about commissioning is you go from building a plant on paper, to building a plant in the field, to training people to operate that plant on paper, and then out in the plant. All of that training happens through a process of training and certifying from a pure cognitive perspective, to doing it in practice out in the field before you actually have to utilize it."
With most of the formal training completed, the operations team is now in execution as excitement for launch day approaches. The opportunity to be part of a North American first has been a career highlight, Benedict says, but in her opinion Heartland's real success lies in the quality group of people they have brought together.
"At the end of the day, it's the people you work with, the people you work beside that's what creates a great place to work."
Kimberly Benedict, Operations Manager, HPC PDH unit.
"That's what makes your products the best because you have people so committed to make things better all the time. It's continuous improvement, it's that motivation. That all comes from the people," she says. "I'm really proud of the team that we've built here. When I go through all the changes and all the things that people had to go through to get to this point, there's a lot of resilience you have to have built into your bones to continue to take on the challenges that come with this project, to keep your head high and still show up to work every day with a smile. I think there's something to be said for that."
How does Benedict think she'll feel when the first load of Heartland Polymers product ships to a customer?
"Sometimes it's a little bit surreal, to be honest. I don't think anybody could have prepared me for what it actually feels like to be part of this. I think getting through this project safely and getting it in operation and then out to customers, that is a massive undertaking and a huge accomplishment. I feel honored that I was chosen to be part of this."