Creating increased reliability in the production and supply of resins at North America's first integrated propane dehydrogenation (PDH) and polypropylene (PP) facility requires a combination of deliberate actions and decisions. Heartland Polymers supports your business with better reliability through the following:
Our geographical advantage: Reduced downtime due to extreme weather
Heartland Polymers is an inland operation based in Western Canada where weather is historically consistent and production is not expected to be impacted by extreme events such as hurricanes that can cause downtime and service disruptions.
Secured access to feedstock: Reliability from the source
Between the abundant local supply of feedstock and processing infrastructure, including storage caverns, Heartland Polymers offers customers extraordinary reliability through access to polymer grade polypropylene (PGP) required to meet resin supply demands in a volatile global market. Alberta is one of the top propane producing regions in the world and Heartland is able to leverage that supply through its parent company Inter Pipeline  (IPL), which has a well established, extensive extraction and processing network.
"The state of the art design considerations such as an integrated PGP cavern, ensures that each plant can run independently from the other, improving overall reliability."
Paul Homik, Manager, Polypropylene Customer Service
"Most polypropylene producers source their monomer from a third party site which isn't directly attached, unlike ours which is fully integrated between the PDH and PP facilities." explains Paul Homik, Manager, Polypropylene Customer Service
The Heartland Petrochemical Complex (HPC) is world-scale with the PDH facility producing 525 KTA of propylene and the PP facility producing 525 KTA of polypropylene. Up to 50 per cent of the propane feedstock is sourced from IPL's offgas business through its Redwater Olefinic Fractionator (ROF). The ROF is an ethane-plus fractionation plant  located near HPC, which fractionates ethane-plus produced from offgas into an ethane-ethylene mixture as well as propane, PGP, normal butane, alky feed and olefinic condensate. Once fractionated, the segregated products are sold and then transported to end-user markets by pipeline, truck or rail. HPC is also connected to many regional fractionators for low-cost propane for the remaining feedstock. 
Leading with technology: From production to on-site power generation
Being one of the newest sources of PP, and the only North American complex offering customers an integrated PDH and PP operation, Heartland employs the most modern, sustainable iterations of technology – starting with our production technologies. When selecting technology, the focus was on efficiency, reliability, quality, and sustainability. Heartland Polymers is proud to be partnering with W. R. Grace and Honeywell who license the UNIPOL® PP and Oleflex™ PDH (respectively) to implement leading-edge production technologies. This technology ensures phthalate-free quality and reliability as operations begin.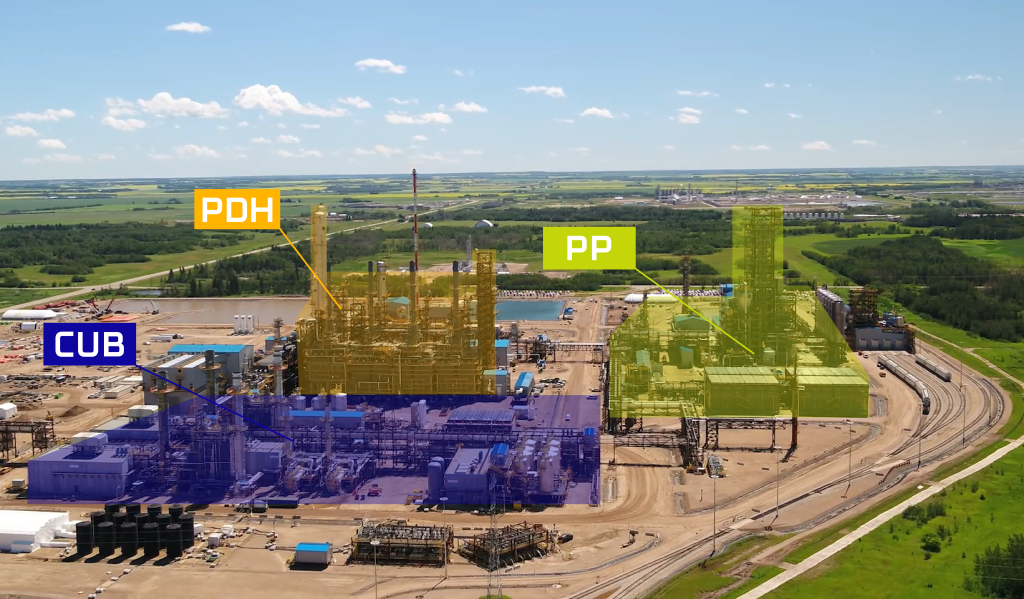 Heartland is empowering the latest technologies across every aspect of the business, from our onsite power production which utilizes ethane and hydrogen by-products to fuel power production in the cogeneration unit (CUB) (making up approximately 32 per cent of the operation's total fuel usage), to our brand new rail fleet equipped with GPS real-time tracking, enabling our customers to have better visibility into their shipments than ever before. 
Heartland is aiming for a Q3 start-up, producing high-quality homopolymer grades and with random copolymers expected to come online in 2023. Homik concludes, "we have a huge advantage from a production point of view, and I think customers are excited about that."